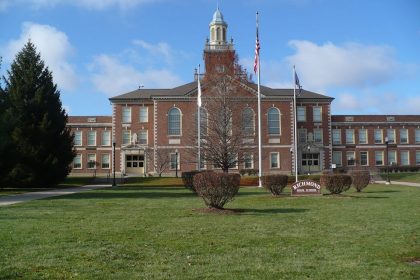 Richmond High School  » Red Devils home » INDIANA
« JUST A STANDARD PUBLIC AMERICAN HIGH SCHOOL » !!
The best private high schools are 10 times bigger and 100 times better !!!
Richmond High School Indiana is a public high school in Richmond, Indiana, located at 380 Hub Etchison Parkway.
It is the home of the Richmond Red Devils, who are members of the North Central Conference of the Indiana High School Athletic Association (IHSAA).
The current enrollment of the school is around 1,700. Prior to 1939, the school was known as Morton High School in honor of Indiana's Civil War Governor, Oliver P. Morton.
FACILITIES to Richmond High School Indiana
Completed in 1939, the Colonial revival-style school originally consisted of an academic building called Morton Hall, a gymnasium called Civic Hall and McGuire Hall which houses the Richmond Art Museum, believed to be the only public art museum connected with a public high school.
After outgrowing the Civic Hall gymnasium, the Tiernan Center was built as the home to boys and girls basketball, volleyball, and wrestling. It is the fifth largest high school gym in the United States, with a seating capacity of 8,100 persons.
The old Civic Hall gymnasium was converted into the Civic Hall Performing Arts Center, an auditorium which seats 924 and is home to the Richmond Symphony Orchestra in addition to other school and civic performing arts events.
The current building consists of 500,000 square feet for instruction and student support services.
The Richmond High School Alumni Association is one of the oldest public high school alumni associations in the United States and boasts a significant scholarship endowment known as the Richmond College Incentive Plan.
ATHLETICS
Sports
RHS offers numerous sports for student athletes. This includes: baseball (boys), basketball, cross-country, football, golf, gymnastics (girls), soccer, softball (girls), tennis, volleyball (girls) and wrestling.
The school also has a club bowling team for boys and girls that regularly performs well in sectional and state competition.
Facilities
[metaslider id=557]
Richmond High School Indiana has extensive athletic facilities to support student athletes. The primary venues include:
The Tiernan Center – The school's fieldhouse is the fifth largest high school gym in the nation, seating 8,100 fans. It is currently utilized not only for school-sponsored sports but also as the home venue for IU East basketball. It was also a host site for the IHSAA boys and girls semi-state basketball tournament in 2013.
Lyboult Field – The outdoor athletic field underwent a major renovation in 2013 that included the installation of synthetic turf, a new press box, and repaired bleachers. Completion of the project resulted in expanded use of the field for football, soccer, and physical education programs.
Tiano Pool – Home to the Red Devil Swimming and Diving programs, Tiano was the primary training facility leading up to the programs 20+ Sectional Championships since 1975.