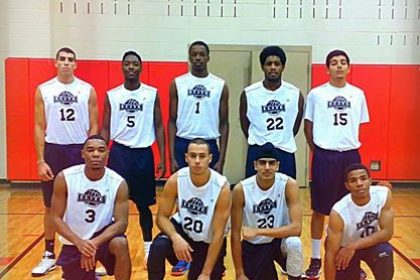 Want to play basketball in the USA like Deandre Jordan? U.S center of the L.A Clippers, NBA ALL
STAR, before joining the Texas A&M NCAA D1, he played with  Humble Texas PREP SCHOOL program!!!
Want to become a student athlete in USA like Indian player Prabhnoor Singh??
THE BEST 17 years old Indian combo-guard (high-major NCAA I prospect)
Actually playing in David Bonnel PREP SCHOOL!!
Check this link Rivals.com and you will discover the PREP SCHOOL players who decided to bypass college and make themselves eligible for the NBA Draft.  And this article on level of Prep school players
CURRENTLY WITH NEW COLLEGE & HIGH SCHOOL RULES IT'S IMPOSSIBLE FOR NON U.S PLAYERS TO BECOME STUDENT AND PLAY BASKETBALL.
BUT DON'T WORRY I GOT ONE SOLUTION FOR YOU
 ELITE PREP BASKETBALL ACADEMY PROGRAM FOR YOU
Most flexible and competitive formula :
No SAT
No TOEFL
No VIDEO
For players (14-22 years) around the world (Europe, America, Asia and Africa)
PROGRAM:
PAY 2500 US$ for Student visa (if you need) and sign up (2 or 3 month before starting in USA)

+ Every month when you are in USA
for 11 month in USA = 750$x10 (so total is 10.000$) + Airplane tickets

Housing, room good level
2 cooked meals + breakfast by day
World Class Basketball (45 to 60 games)
Basketball & physical personal training
High School studies, ESL, TOEFL, SAT
U.S student visa
promotion of player to colleges (over 100 U.S coaches will see you play and over 500 will read about you in national publications)
>>> PLEASE FEEL FREE TO JOIN US BY ELITE FORM BELOW <<<
[metaslider id=572] David Bonnel ELITE PREP BASKETBALL ACADEMY IS A PRIVATE SCHOOL ABBLE TO PREPARE YOU TO STUDY AND BECOME A BETTER PLAYER TO JOIN NCAA COLLEGE, NBA, INCREASE YOUR LEVEL TO BECOME A PROFESSIONAL PLAYER IN YOUR COUNTRY.
SEE LISTING OF ELITE FORMER PLAYERS IN PREP SCHOOL:
Walter PITCHFORD (Florida & Nebraska NCAA I), Trevor FERGUSON (North Carolina State NCAA I, ACC), Theo HATCHER (University of Albany NCAA I), Lee HASSAN (South Eastern Illinois NCAA I), Everet SPENCER (Wright State University & Ohio State NCAA I), Sekani MILIKEN (Alabama State NCAA I), Ahmed SHAMESLEDIN (Monroe College NCAA I), Lawrence DANNER (Texas Southern NCAA I), Millen KOSTOV (Ohio Christian University NCAA II), Rob ELRIDGE (Wright State University NCAA I), Myles ROBINSON (Cincinnati State NCAA II), Cole ADAIR (University of Indianapolis NCAA II), Lance CARTER (Tabor College NAIA), Abdul OSMAN (Benedict College), Austin YOUNG (Salem International College), Charles WARREN (Milken University), Charon HILL 2015′ (Kilgore College Of Texas, NJCAA DIV I), Jearvon IRVIN 2015′ (Missouri State of West Plains, NJCAA DIV I), Nate FLORENCE (University of Toledo), Dominique BRYANT (Kennedy King College), Faisha IBRAHAM (Shaw University), Bobby CLARK (Western Iowa College), Kenny FREEMAN (Brevard College), Idgke HART (Brevard College), Jamar HUFF (Sinclair College), Luther ANDREWS (Chicago South Suburban College), Kendall WATERS (Ashland University), Shawn FLEMMING (Bennedictine University), Devin BENSON (Ohio Christian University), Devaughn COLE-RODNEY (Muskegon College), Hayden ANNET (Charleston College), Warren NILES (Oral Roberts University), Trevor NILES (Frank Phillips College), Chase CAMPBELL (South Plains College), Brandon PITTS (South Plains College), Phil BOND (Charleston College), Phil BARNER (Brown and Mackie College), Denham BUCHANON (Murray State College OKC), Melvin TILLMAN (Southern Methodist), Latique AGARD (Jacksonville State), Shavar RICHARDSON ( Florida Atlantic), Leke LEU ( Daytona State), Junior McLEOD (Eckerd State), Nathan GORDON (Spoon River College), Remon NELSON (Aiken College SC), Adante JONES (McCook College), Jack O FLAHERTY (Earlham College NCAA III), Malik WINEGLASS (Louis and Clark College NCAA III), Jim BROWN (Paris Junior College Texas)……….
>>>>>>>> WANT YOUR NAME ON THIS LIST ? JOIN ELITE ACADEMY <<<<<<<<<<

 TRAINING SCHEDULE *
7-7:45 am Wake Up, Shower, And Eat Breakfast
7:50 am Depart for Elite basket ball Facility
8-8:30 am Dynamic Warm-Up w/Performance Coaches
8:45-11:15 am On Court Skill Development
11:15-12:45 pm Lunch, Rest & Recovery : Observe NBA Players And 5 On 5 Games
1-2:30 pm Performance Training
2:30-4:15 pm Competitive Training, Skill Specific Training & Shooting Clinics
4:30 pm Camp Wrap-up
4:30 pm Dinner Service @ Elite basketball
5:00 pm Depart for Dorms
7-9:00 pm Personal or Activity Time
10:00 pm Lights Out
* Please note : times and schedules are subject to change
[contact-form][contact-field label='Name' type='name' required='1'/][contact-field label='Email' type='email' required='1'/][contact-field label='Your student grade and your age' type='text' required='1'/][contact-field label='Are you sure you could pay 10.000$ our Academy' type='text' required='1'/][contact-field label='Your Skype or phone' type='text'/][contact-field label='Comment' type='textarea'/][/contact-form]